Buy Modd Coins
Modd Coins are used to purchase skins and in-game items for supported games.
Starter
A great starter package for new users.
500 Coins

Basic
Get some more value for your money.
1000 Coins

Advanced
More value, more money, more coins.
2000 Coins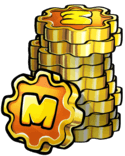 Premium
They say the more the merrier!
6000 Coins

Epic
Wow, these coins look good on you.
13000 Coins

Ultimate
Deck out your account with this package.
37000 Coins